Highlights:
BRAND – mLabs
※ LARGE LCD DISPLAY: pH, Conductivity, TDS, Salinity and Temperature simultaneously. Displays Maximum/Minimum value and data hold.

※ Automatic Temperature Compensation (ATC) and degree ℃/℉ switchable.

※ Waterproof IP-57 standard and rugged design for field use conveniently. It can float on water.

※ Low battery and consumption indicator. Auto shut off after 10 minutes of non use.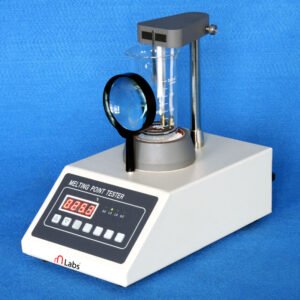 Highlights:
BRAND – mLabs
| | |
| --- | --- |
| Range of melting point | (50~270) ℃ |
| Accuracy | <200℃ ≯±0.5℃   ≥200℃ ≯±1.0℃ |
| Usage temperature | (15~35) ℃ |
| Range of preset temperature | (50~260) ℃ |
| Oil bath | Methyl silicone oil |
| Oil bath cup | 250ML high beaker |
| Rate | (0.5、1.0、1.5、3.0) ℃ / min |
| Accuracy of Rate | ≤10% |
| Power of the heater | 200W |
| Power | 220V / 50Hz / 500W |
| Dimension | (320*180*290) mm³ |
Highlights:
BRAND – mLabs
Power
220V/ 50Hz/ 60W or 110V/ 60Hz/ 60W
220V/ 50Hz/ 60W or

110V/ 60Hz/ 60W
| | | |
| --- | --- | --- |
| Dimension | (40*24*16) cm³ | (50*30*16) cm³ |