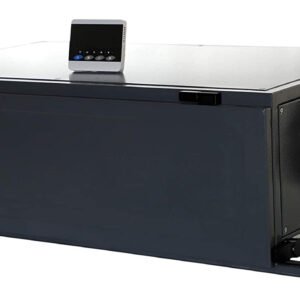 Highlights:
BRAND – mLabs
The body material of the dehumidifier is made of cold-rolled sheet metal with epoxy powder coating paint
Evaporator and Condenser of dehumidifier is epoxy-coated for better durability and corrosion resistant.
Low maintenance cost and energy efficient design dehumidifier.
Dehumidifier equipped with reliable and high-performance reciprocating compressor with environmental friendly refrigerant R134A or R410A.
Energy Saving, High Efficiency AC/EC Centrifugal fan for low noise, High static pressure operation with Variable Speed controller is equipped with our dehumidifier.
Optional 5-stages of Air Filtration System (Primary, Secondary, HEPA, Ionizer, UV Sterilizing Lamp) Can be built in the dehumidifier.
The dehumidifier is built with reliability for long hour operation 24/7.
Advance touch button controller with built-in temperature and humidity sensor. it is easy to set up the dehumidifier and settings will be stored in memory.
Honeycomb Structure Evaporator with blue Coated Hydrophilic water-repellent, which provide better efficiency to dehumidify the air.
Water Drain Pan of the dehumidifier is made of SUS304 Stainless Steel to prevent to corrosion damage.